8 April 2021 – Today more than ever, due to the unexpected situation that limits the possibility to meet physically, this first issue of a series of newsletters offers us the possibility to announce the SENSIBAT project and share our results with the community that investigates new developments to have a better knowledge and control of the batteries.
When we started to picture out what we could do to achieve a more accurate control and increased performances of the battery throughout its lifetime based on new cell-integrated sensing technologies, we made assumptions on cell internal temperature, pressure and EIS measurement functionalities that finally led to the SENSIBAT project proposal. It is stimulating to know that we share this vision with the European Commission and with complementary projects within the same call with which we collaborate within the framework of the Battery 2030+ initiative, INSTABAT and SPARTACUS projects.
SENSIBAT's overall objective is to develop a sensing technology for Li-ion batteries that measures in real-time the internal battery cell temperature, pressure (e.g. mechanical strain, gas evolution) conductivity and impedance (separately for the anode, cathode and electrolyte). In this initial phase of the project, we established the specifications and requirements of this new sensing technologies, facing the multiple challenges of integrating any element within a Li-ion battery. As shown in the "Results" section of the SENSIBAT project website, during this first month of the project we built the foundations to achieve satisfactorily all the objectives of the project: Fully new 2D materials have been optimized to produce completely new sensors directly deposited on the cell components to monitor the internal impedance of the cell.
Improving the monitoring to understand the changes within a battery cell under various operation conditions is key to mass introduction of this technology in high demanding applications. Our ambition is to provide data and insights from these new sensing technologies, to improve state estimator functions based on an improved understanding of how, where and when degradation and failure mechanisms occur to have more reliable batteries.
Our work started less than eight months ago and will hopefully end by September 2023. By that time, we'll be able to tell whether our approach was successful and will know what kind of legacy, in the form of new sensors and their functionalities, it can leave to the European Li-ion Battery community.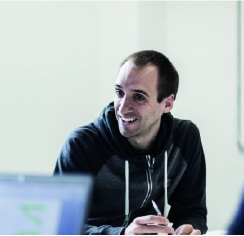 I look forward to our next newsletter,
Take care,
Iñigo Gandiaga
SENSIBAT Project Coordinator,
IKERLAN (Member of The Basque Research and Technology Alliance – BRTA)